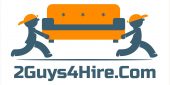 General:
2Guys4Hire.com is a locally-owned professional moving labor provider marketplace. All of our movers contracted with us are experienced professionals and provide all necessary dollies and equipment to safely move your belongings.
Liability and Damage Coverage:
We provide complimentary valuation coverage that is valid for damage occurring while our movers are handling your belongings. Our movers do not transport items, therefore any damage occurring during transit in any type of vehicle or storage container is not covered for any reason or under any valuation. It is the customer's responsibility to be present during the job. If any damage to your property occurs you must inform your crew leader immediately. Failure to notify the crew leader of any property damage prior to their departure will forfeit any claim of damage to the property against your movers. The valuation coverage provided by our movers consists of reimbursement or repair of any covered items that are damaged at a rate of $0.60 per pound per item as determined by the US DOT standard weights and measures. 2Guys4Hire.com does not provide damage coverage and it is your responsibility to verify that your mover has active insurance.
Ceramic, marble, granite, pressed board, and particle board are not covered due to the nature of these materials.
Valuables such as paper money, coins, stocks, bonds, jewelry, or collectibles are not covered and should not be handled by our movers.
Unsealed or improperly sealed containers and their contents, non-boxed items, and unwrapped or otherwise unprotected items will not be covered.
The customer is responsible for providing all packing materials, boxes, crates, cargo straps, and furniture pads/blankets. Failure to provide an adequate amount of all of the aforementioned equipment to protect your belongings will automatically void all damage coverage otherwise provided by our movers.
Our movers do not provide any floor, wall, or surface protection and therefore don't cover any damage occurring to any surface or fixtures. It is assumed that some items being carried throughout a home may come into contact with a wall, railing, fixture, or floor so it is recommended to the customer to provide padding and/or protection to floors, walls, and railings that will be in the path of the movers carrying your belongings.
Fees and Payment:
2Guys4Hire.com collects the fee for your entire job reservation in advance via debit or credit card at the time your job booking.  We do not offer refunds for unused hours. (For example, if you reserve our movers for 4 hours and they complete the job in 3 hours, your fee is the 4-hour price you already paid.)
After the job is completed, our movers will collect payment from you on-site for any additional time that our movers worked for you, billed in ½ hour increments and rounded up to the next full ½ hour.
Our movers are able to stay for up to one (1) hour over your reserved time so it is important to reserve enough time for our movers to complete your job.
Your job time starts when our movers arrive and ends when our movers are completed with the job.